I am still learning about American Natural Stones. Please forgive the lack of information! I will fill it in overtime. At least the list of names will help you learn the options available.
About Arkansas / Washita Stones
These stones come from Arkansas, USA and are very popular with woodworkers around the world. They originate from the small Ozark mountainous region east of the hot springs in Arkansas. In reality, Washita and Arkansas stones are mined from different quarries but are functionally the same composition and as such lumped together.
These stones are often called oilstones, though they work quite well with just water. When less stones were available to the average public, the use of oil was more common to allow it to be smoother than its natural grain by reducing the friction. Now adays it comes down to personal preference. I do not use oil on any of my stones given the difficulty of removing it should you want to.
Arkansas/Washita stones are claimed to be close to pure silica, or around 99.5%. This makes them an extremely pure whetstone with fine hard grain patterns. The Washita mine was more efficient than the Arkansas mine, producing 50% usable content rather than the 25% that came from the Arkansas.
From each mine came variants of the stone with their own unique name. These are useful when looking for stones to identify how the stone will perform and which you prefer.
Using Arkansas / Washita Stones
Unlike some other natural whetstones, Arkansas stones do not tend to respond well to the formation of "slurry" on their surface from the base stone. They are best used with the surface conditioned to a level you want the stone to cut at. This technique is where you flatten the surface of the stone using SIC powder or a diamond plate to the level of desired fineness and let the surface of the stone do the majority of the cutting. For instance, a Translucent Arkansas will be a very aggressive stone if the surface is conditioned to 140 grit, whereas if the surface is conditioned at 10000 grit it will be very slow and able to do razors. The internal grit of the Arkansas stone at all levels is rather aggressive though, so once you form a slurry you will find the stone incompatible with very fine jobs until the surface is reconditioned again to the desired level of fineness. This does not stop someone from forming a slurry on the surface of the stone which does not originate from the base stone – E.G. using a slurry stone or Nagura from a different stone origin. Great results have been reported using JNAT Nagura or Tam O Shanter slurry stones on Arkansas stones.
Washita stones work similar to above, however, due to their coarser composition they are able to fulfill a more aggressive role easier but not get as far on the fineness/keenness scale. No matter how you surface condition a Washita stone, it would be very difficult to get a satisfactory razor edge off a Washita stone. However, they perform very well for early knife and tool work due to their more aggressive nature.
Arkansas and Washita stones can be used with water or oil but are traditionally used as oilstones. Per the method of focusing on surface conditioning, the oil allows you to get the stone to act even finer than usual for the stones conditioned level. If you are looking for a finer level of sharpening/honing and do not wish to use oil, running water is a viable but not as effective substitute.
Arkansas Variants
Soft

The softer variant with a medium grain, better utilized for tools and bevel setting. This will pull metal the fastest of all the Arkansas stones. It is the most popular and price efficient version.
Analogous Grit: 600-800
Hard

The harder variant with a finer grain, better utilized for polishing or honing. This is often referred to as "White Hard". This does not mean though that all Hard Arkansas is actually pure white.
Analogous Grit: 800-1500

True Hard

This is the step up from the standard hard variant, being a finer grade. It is often a muti-colored translucent.
Analogous Grit: 2000+
Hard Black / True Hard Black

Functionally a version of Hard which is deep black. It is of a finer grit than standard Hard and inline with the True Hard and Translucent styles in use. Hard Black or Black is not the same as "Surgical Black" – covered below.
Analogous Grit: 2000+

Translucent Arkansas and Surgical Black

A color variation of True Hard which results in a uniform translucent shade of gray, white, yellow, brown, black, or pink. Surgical Black is the name for the Black Variant and is often sought after and sometimes claimed to be the keenest of the Translucent options though not a lot of proof exists for this. In general, these are considered superior to the True Hard Arkansas but often perform very similar.
There is a good chance this consideration of them being "better" than Hard Black or True Hard is because Translucent and Surgical Black have always been more expensive. However, this comes from the layer being thinner and more brittle – resulting in more failed stone cuttings – and less stones available of this variety. However, this rarity still makes them desirable even if you consider they may perform the same.
Analogous Grit: 2000+
Washita Variants
Lily White

Considered the best of the Washita.
Analogous Grit: 400-600
No 1

Second best of the Washita.
Analogous Grit: 400-600
No 2

Base line Washita.
Analogous Grit: 400-600
There are many Arkansas stones available on the market, but only a few mines are active today. There is stone left in the ground should the owners want to restart production (as they did briefly in the early 2000s), but as of now it is inactive.
I am unaware of any active Washita mines.
Apache Stones
Vermont Slate
Bluestone (Ohio)
Hindostan
Colorado Red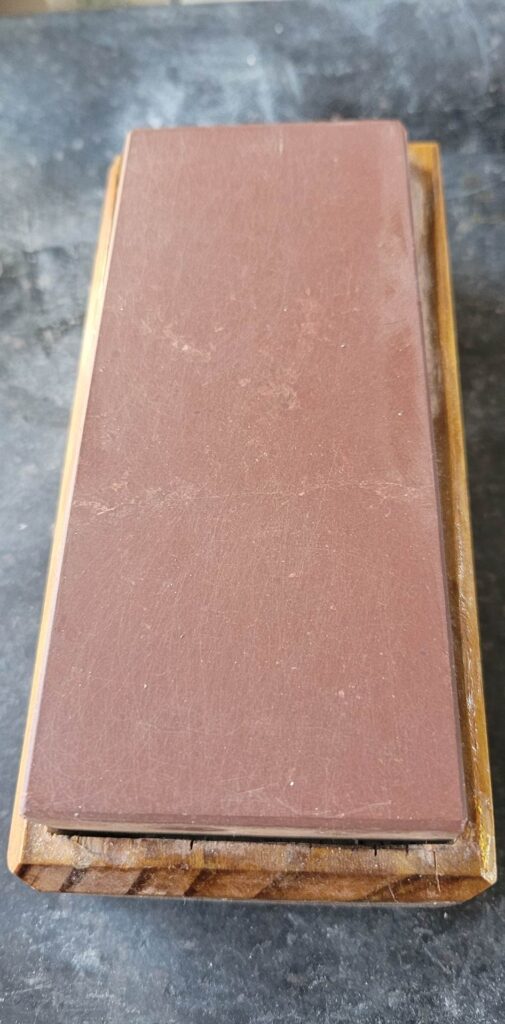 Anchor Cumberlandite (Rhode Island)
Further Information